Charlton Heston (born John Charles Carter or Charlton John Carter;October 4, 1923 – April 5, 2008) was an American actor and political activist.
As a Hollywood star, he appeared in 100 films over the course of 60 years. He played Moses in the epic film, The Ten Commandments (1956), for which he received his first Golden Globe Award nomination. He also starred in Touch of Evil (1958) with Orson Welles, Ben-Hur, for which he won the Academy Award for Best Actor (1959), El Cid (1961), and Planet of the Apes (1968). He also starred in the films The Greatest Show on Earth (1952), Secret of the Incas (1954), The Big Country (1958), and The Agony and the Ecstasy (1965).
A supporter of Democratic politicians and civil rights in the 1960s, Heston later became a Republican, founding a conservative political action committee and supporting Ronald Reagan. Heston's most famous role in politics came as the five-term president of the National Rifle Association, from 1998 to 2003. After being diagnosed with Alzheimer's disease in 2003, he retired from both acting and the NRA presidency. Heston died on April 5, 2008, aged 84, from pneumonia.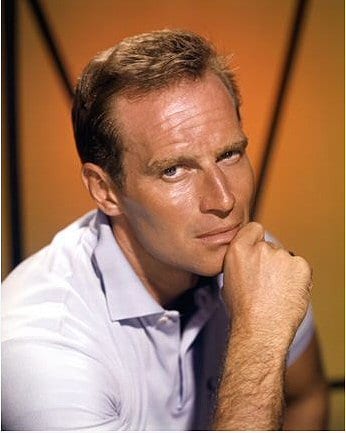 Career
Heston frequently recounted that while growing up in northern Michigan in a sparsely populated area, he often wandered in the forest, "acting" out characters from books he had read. Later, in high school, he enrolled in New Trier's drama program, playing in the amateur silent 16 mm film adaptation of Peer Gynt, from the Ibsen play, by future film activist David Bradley released in 1941.
From the Winnetka Community Theatre (or the Winnetka Dramatist's Guild, as it was then known) in which he was active, he earned a drama scholarship to Northwestern University; among his acting teachers was Alvina Krause. Several years later, Heston teamed up with Bradley to produce the first sound version of William Shakespeare's Julius Caesar, in which Heston played Mark Antony.
World War II service
In 1944, Heston enlisted in the United States Army Air Forces. He served for two years as a radio operator and aerial gunner aboard a B-25 Mitchell stationed in the Alaskan Aleutian Islands with the 77th Bombardment Squadron of the Eleventh Air Force. He reached the rank of staff sergeant.
Heston married Northwestern University student Lydia Marie Clarke, who was six months his senior. That same year, he joined the military. After his rise to fame, Heston narrated for highly classified military and Department of Energy instructional films, particularly relating to nuclear weapons, and "for six years Heston [held] the nation's highest security clearance" or Q clearance." The Q clearance is similar to a DoD or DIA clearance of top secret.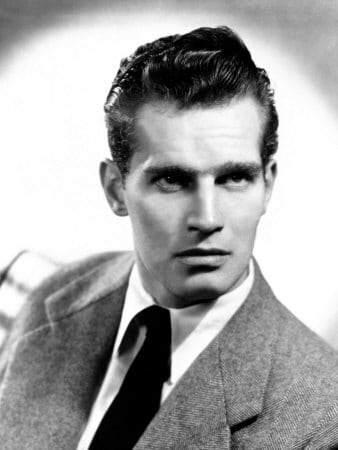 Theater and television
After the war, Heston and Clarke lived in Hell's Kitchen, New York City, where they worked as artists' models. Seeking a way to make it in theater, Heston and his wife Lydia decided to manage a playhouse in Asheville, North Carolina, in 1947, making $100 a week. In 1948, they returned to New York, where Heston was offered a supporting role in a Broadway revival of Shakespeare's Antony and Cleopatra, starring Katharine Cornell. In television, Heston played a number of roles in CBS's Studio One, one of the most popular anthology dramas of the 1950s.
Film producer Hal B. Wallis of Casablanca spotted Heston in a 1950 television production of Wuthering Heights and offered him a contract. When his wife reminded Heston they had decided to pursue theater and television, he replied, "Well, maybe just for one film to see what it's like."
Heston turned down the lead opposite Marilyn Monroe in Let's Make Love to appear in Benn W. Levy's play The Tumbler, directed by Laurence Olivier. Called a "harrowingly pretentious verse drama" by Time, the production went through a troubled out-of-town tryout period in Boston and closed after five performances on Broadway in February 1960. Heston, a great admirer of Olivier the actor, took on the play to work with him as a director. After the play flopped, Heston told columnist Joe Hyams, "I feel I am the only one who came out with a profit…. I got out of it precisely what I went in for – a chance to work with Olivier. I learned from him in six weeks things I never would have learned otherwise. I think I've ended up a better actor."
Heston enjoyed acting on stage, believing it revivified him as an actor. He never returned to Broadway, but acted in regional theaters. His most frequent stage roles included the title role in Macbeth, and Mark Antony in both Julius Caesar and Antony and Cleopatra. He played Sir Thomas More in A Man for All Seasons in several regional productions in the 1970s and 1980s, eventually playing it in London's West End. The play was a success and the West End production was taken to Aberdeen, Scotland, for a week, where it was staged at His Majesty's Theatre.
Hollywood
Heston's first professional movie appearance was the leading role in Dark City, a 1950 film noir. His breakthrough came when Cecil B. DeMille cast him as a circus manager in The Greatest Show on Earth, which was named by the Motion Picture Academy as the best picture of 1952. In 1953, Heston was Billy Wilder's first choice to play Sefton in Stalag 17. However, the role was given to William Holden, who won an Oscar for it. In 1954, he played the lead in Secret of the Incas, which was shot on location at the archeological site Macchu Picchu and had numerous similarities to Raiders of the Lost Ark. Filmed a quarter-century before the latter film, "Incas" included a tomb scene with the revelatory shaft of light pointing out a clue on a map and featured Heston's roguish antiquities thief's costume and light beard; Raiders' costume designer Deborah Nadoolman Landis noted that it was "almost a shot for shot similar" to the film on which she worked. Heston became an icon for playing Moses in the hugely successful film The Ten Commandments (1956), selected by director Cecil B. DeMille, who reportedly thought Heston bore an uncanny resemblance to Michelangelo's statue of Moses.
In 1955, Heston appeared with Jane Wyman in Lucy Gallant. In 1958, he portrayed a Mexican police officer, Ramon Miguel Vargas, in Orson Welles's widely acclaimed film noir Touch of Evil. He also played a rare supporting role in William Wyler's The Big Country opposite Gregory Peck and Burl Ives.
After Marlon Brando, Burt Lancaster, and Rock Hudson turned down the title role in Ben-Hur (1959), Heston accepted the role, winning the Academy Award for Best Actor, one of the unprecedented 11 Oscars the film earned. After Moses and Ben-Hur, Heston became more identified with Biblical epics than any other actor. He voiced Ben-Hur in an animated television production of the Lew Wallace novel in 2003.
Heston played leading roles in a number of fictional and historical epics: El Cid (1961), 55 Days at Peking (1963), as Michelangelo in The Agony and the Ecstasy (1965), and Khartoum (1966). Heston also played the title role in the Western movie Will Penny (1968).
From 1965-71, Heston served as president of the Screen Actors Guild. The Guild had been created in 1933 for the benefit of actors, who had different interests from the producers and directors who controlled the Academy of Motion Pictures Arts and Sciences. He was more conservative than most actors, and publicly clashed with outspoken liberal actors such as Ed Asner.
In 1968, Heston starred in Planet of the Apes and in 1970, he had a smaller supporting role in the sequel, Beneath the Planet of the Apes. In 1970, he portrayed Mark Antony again in another film version of Shakespeare's Julius Caesar. His co-stars included Jason Robards as Brutus, Richard Chamberlain as Octavius, Robert Vaughn as Casca, and English actors Richard Johnson as Cassius, John Gielgud as Caesar, and Diana Rigg as Portia.
In 1971, he starred in the postapocalpytic science-fiction film The Omega Man, which has received mixed critical reviews. In 1972, Heston made his directorial debut and starred as Mark Antony in an adaptation of the William Shakespeare play he had performed earlier in his theater career, Antony and Cleopatra. Hildegarde Neil was Cleopatra and English actor Eric Porter was Ahenobarbus. After receiving scathing reviews, the film was never released to theaters, and is rarely seen on television. It was finally released on DVD in March 2011. He subsequently starred in more successful films such as Soylent Green (1973) and Earthquake (1974).
Beginning with playing Cardinal Richelieu in 1973's The Three Musketeers, Heston was seen in an increasing number of supporting roles, cameos, and live theater. From 1985-87, he starred in his only prime-time stint on a television series in the soap, The Colbys. With his son Fraser, he produced and starred in several TV movies, including remakes of Treasure Island and A Man for All Seasons. In 1992, Heston appeared on the A&E cable network in a short series of videos, Charlton Heston Presents the Bible, reading passages from the King James version.
Never taking himself too seriously, he also made a few appearances as "Chuck" in Dame Edna Everage's shows, both on stage and on television. Heston appeared in 1993 in a cameo role in Wayne's World 2, in a scene where Wayne Campbell (Mike Myers) requests casting a better actor for a small role. After the scene is reshot with Heston, Campbell weeps in awe. That same year, Heston hosted Saturday Night Live. He had cameos in the films Hamlet, Tombstone, and True Lies.
He starred in many theatre productions at the Los Angeles Music Center, where he appeared in Detective Story and The Caine Mutiny Court Martial, and as Sherlock Holmes in The Crucifer of Blood, opposite Richard Johnson as Dr. Watson. In 2001, he made a cameo appearance as an elderly, dying chimpanzee in Tim Burton's remake of Planet of the Apes. His last film role was as Josef Mengele in My Father, Rua Alguem 5555, which had limited release (mainly to festivals) in 2003.
Heston's distinctive voice landed him roles as a film narrator, including Armageddon and Disney's Hercules. He played the title role in Mister Roberts three times and cited it as one of his favorite roles. In the early 1990s, he tried unsuccessfully to revive and direct the show with Tom Selleck in the title role. In 1998, Heston had a cameo role playing himself in the American television series Friends, in the episode "The One with Joey's Dirty Day".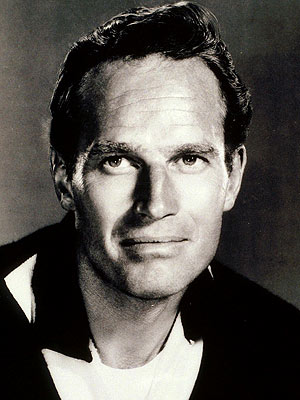 Legacy
Richard Corliss wrote in Time magazine, "From start to finish, Heston was a grand, ornery anachronism, the sinewy symbol of a time when Hollywood took itself seriously, when heroes came from history books, not comic books. Epics like Ben-Hur or El Cid simply couldn't be made today, in part because popular culture has changed as much as political fashion. But mainly because there's no one remotely like Charlton Heston to infuse the form with his stature, fire and guts."
In his obituary for the actor, film critic Roger Ebert noted, "Heston made at least three movies that almost everybody eventually sees: Ben-Hur, The Ten Commandments and Planet of the Apes."
Heston's cinematic legacy was the subject of Cinematic Atlas: The Triumphs of Charlton Heston, an 11-film retrospective by the Film Society of the Lincoln Center that was shown at the Walter Reade Theater from August 29 to September 4, 2008.
On April 17, 2010, Heston was inducted into the National Cowboy and Western Heritage Museum's Hall of Great Western Performers.
In his childhood hometown of St. Helen, Michigan, a charter school, Charlton Heston Academy, opened on September 4, 2012. It is housed in the former St. Helen Elementary School. Enrollment on the first day was 220 students in grades kindergarten through eighth.
Charlton Heston was commemorated on a United States postage stamp issued on April 11, 2014.
Charlton Heston was inducted as a Laureate of The Lincoln Academy of Illinois and awarded the Order of Lincoln (the State's highest honor) by the Governor of Illinois in 1977 in the area of Performing Arts.
Bibliography
by Heston:
In the Arena: An Autobiography (1997); ISBN 1-57297-267-X
The Courage to be Free (2000), speeches ISBN 978-0-9703688-0-5
The Actors Life: Journals 1956-1976 (1978); ISBN 0-671-83016-3
Beijing Diary; ISBN 0-671-68706-9
To Be a Man: Letters to My Grandson; ISBN 0-7432-1311-4
Charlton Heston Presents the Bible; ISBN 1-57719-270-2
Charlton Heston's Hollywood: 50 Years in American Film with Jean-Pierre Isbouts; ISBN 1-57719-357-1
Further reading
Bernier, Michelle Bernier. Charlton Heston: An Incredible Life (2nd ed. 2009) excerpt and text search
Raymond, Emilie. From My Cold, Dead Hands: Charlton Heston and American Politics (2006) excerpt and text search; biography by scholar focused on political roles
Ross, Steven J. Hollywood Left and Right: How Movie Stars Shaped American Politics (2011) ch 7 on Heston
Rovin, Jeff. The Films of Charlton Heston (1980)